NCRA 25TH ANNIVERSARY CONFERENCE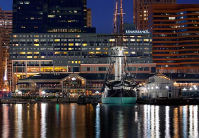 RENAISSANCE BALTIMORE HARBORPLACE HOTEL
SAVE THE DATE!
Nov. 6 - 9, 2017
Room pricing is $195.00/night +tax


(CUT OFF DATE IS: October 8, 2017)
Quick Schedule:
Monday November 6th - Baltimore
User Meetings and Board of Directors Meeting - Day
Welcome Reception & Marketplace - Monday Evening
Tuesday & Wednesday November 7 & 8 - Baltimore
Conference General Sessions & Breakouts - Both Days
Feature Event - Sponsored by Meridian Link - Tuesday Evening
Legislative Kickoff Cocktail Hour - Wednesday Evening
Thursday November 9th - Washington DC
Bus ride and box breakfast to Capitol Hill,
followed by scheduled meetings with representatives
Airports: BWI - Baltimore Washington International
DCA - Ronald Regan Washington National
IAD - Washington Dulles International
Note: BWI is approximately 15 minutes to the hotel and DCA is approximately 90 minutes. DCA is approximately 20 minutes to Capitol Hill. NCRA will be booking a place for members to store their travel bags Thursday on the Hill so you may leave from DC if you do not wish to return to Baltimore after your scheduled meeting.
Anyone wishing to sponsor and event please contact Jan Gerber at Jgerber@ncrainc.org
Coming Soon ~

Attendee Registration Link
Exhibitor Registration Link